Call for Papers Documenta (Volume 41, Issue 2, 2023) | Theater & Law

Posted by Eline Denolf on 2022-10-07
Documenta: Journal for Theater (Volume 41, Issue 2, 2023)
CALL FOR PAPERS: Theater & Law

Issue editor: Steff Nellis (Ghent University)

In 2017, Swiss director Milo Rau set up a highly influential theatrical trial: The Congo Tribunal. Despite pointing out the fictional status of his tribunal, he expresses a great desire for the collected material to be taken seriously and for his theatrical creation to inspire real court hearings in the future. As the international community never initiated a lawsuit to judge the systematic attacks on the Congolese population from 1994 onwards, Rau brought together various groups of the population in his theatrical trial. The court case consisted of members of the government, the opposition, victims, witnesses, (former) rebels, farmers, miners, activists, and both local and international experts. In Congo, where the governor of Bukavu intervened in the debate from the audience, the tribunal caused heated discussions that were taken up by the media and various politicians. Consequently, the government and several large companies were held responsible by this fictional tribunal. Moreover, the World Bank and the European Union were convicted as well in a second verdict.

When imperial abuses, sexual assault, (eco-)colonialism, and other problems are neglected by the international community, theater can publicly condemn these shortcomings within the real legal system by assembling public meetings itself. Thereby, theater claims a voice in the debate that can counteract the dominant point of view. After all, theater, as a live event, can be regarded as the utmost suitable place to discuss actual topics and heated debates. The performing arts are an ephemeral medium that approaches reality as near as an artform ever can. Therefore, theater seems to be an appropriate apparatus for dealing with injustices in society. While real lawsuits emphasize legal responsibility, theatrical tribunals focus on moral responsibility. This shift is exemplary for contemporary court case performances, which is why the tribunal genre is highly desirable to build upon, to complete and even to precede regular proceedings, trials, and tribunals.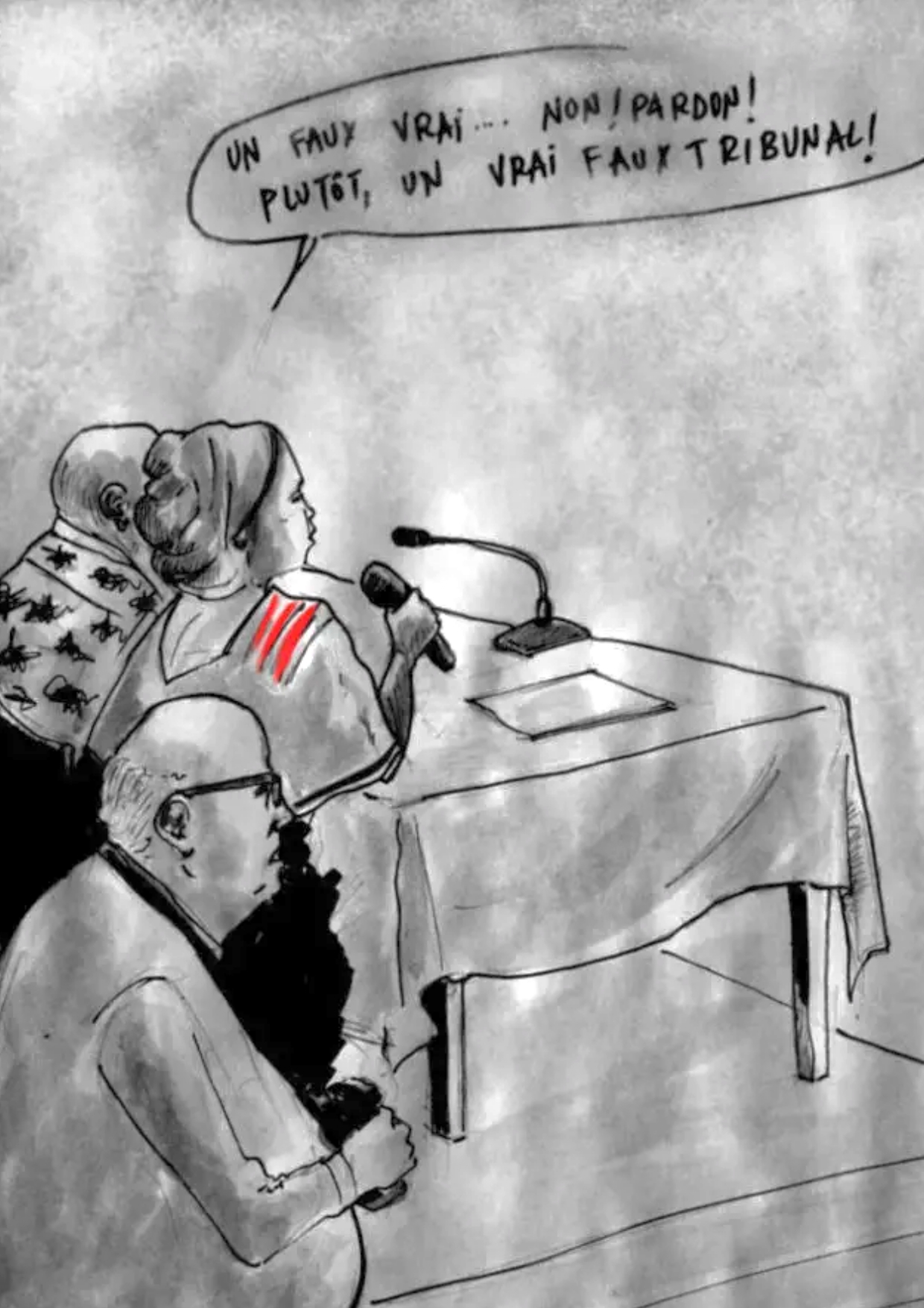 Although historical research into the connection between law and theater, as well as into twentieth-century theatrical tribunals is widespread (e.g. Arjomand 2018; Read 2016; Tindemans 2016), the recurring theme of justice in contemporary performance practices remains largely unexplored. However, an increasing number of twenty-first-century artists have begun relying on structures of the court in their performances, especially in West European theater. After all, the courtroom can be considered as a specific dramatic place with its own dramaturgy, scenography, script, and dramatis personae. Some theater companies and theater directors who have already implemented such structures in their works are Action Zoo Humain, Lara Staal and Yoonis Osman Nuur, Rebekka de Wit and Anoek Nuyens, Jonas Staal, Christophe Meierhans, Agency, Milo Rau, Maria Lucia Cruz Correia, Rosella Biscotti, etc.. By creating theatrical tribunals, these artists attempt to create a space for alternative jurisdiction. Therefore, this special issue of Documenta seeks to examine the close connection between the courtroom and the stage by means of a comparative study of court cases and their fictional counterparts: theatrical court case performances and tribunals.

Following the approach of twentieth-century dramatists that used documentary strategies to stage preeminent lawsuits, contributions may analyze theatrical re-enactments of historical court cases from both the present and the past. However, artists today do not only look to the past, but are especially interested in the future as they radically question the premise of law's objectivity by offering an alternative point of view to justice on stage. Therefore, contributions may also delve into pre-enactment as an important strategy to rethink systemic ways of enacting law, and to reflect upon new imaginaries beyond regular proceedings. After all, although theater remains a non-event that never could have the same coercive power to change reality directly, the possible outcomes of these (p)re-enacting lawsuits are to be questioned. By rethinking, deconstructing, and reconfigurating the theatrical dramaturgy of the courtroom on stage, this special issue seeks to take into consideration the powerful meta-narrative installed that may cause individual spectators to contemplate stubborn systemics within the courtroom in particular, and within society in general.
We kindly invite in-depth contributions in the format of approximately 8000-word essays. Shorter artistic contributions, essays, interviews, manifestos, artists statements, thoughts, concerns, and other meditations on the topic that consider theater, law, and justice in the broadest sense possible are welcome too.

Submissions might consider, but are not limited to:

Theater and performances of jurisdiction, justice, or law;
The contemporary artistic strategies combining theater and law;
Juridical dramaturgy and the dramaturgy of the courtroom;
(P)re-enactments of preeminent lawsuits relying on documentary practices;
Performative (p)re-enactments of futuristic trials that have not yet been/cannot be held;
Ecological practices and climate justice;
Documentary theater and the courtroom, tribunal plays, verbatim performances;
International people's tribunals in the past and the present;
Resistance, refusal, solidarity, shared indignations;
Reconciliation and restorations, hope and renewal;
The role(s) theater can play in organizing people's tribunals considering (civil) wars;
Alternative jurisdiction and truth commissions;
Postcolonial justice;
Speculative courts and thought experiments;
The role of the spectator in tribunal plays;
The role of theatrical justice and its political potential;
Shortcomings of theatrical practices that enact law.
PRELIMINARY Schedule:
Proposals: November 1, 2022
Reply on Abstracts: November 15, 2022
First Drafts: March 1, 2023
Feedback: April 1, 2023
Second Drafts: June 1, 2023
Publication: Fall 2023
All proposals and submissions should be sent directly to Steff Nellis (steff.nellis@ugent.be). Issue related enquiries should be directed to the issue editor as well.

Format:

Alongside long-form, in-depth articles, we encourage short articles, thoughts, and provocations. As with previous editions of Documenta, we welcome artist pages and other contributions that use distinctive layouts and typographies for our portfolio section, as well as more conventional essays. Book reviews on the topic of theater, law, and justice are welcome as well. Informal suitability checks are recommended.

General guidelines for proposals:
Proposals will be accepted by email (Microsoft Word).

Proposals should not exceed one A4 side (approximately 300 words).
Please include your surname in the file name of the document you send.
Please provide a short biography (approximately 100 words) in a separate document.
Submission of a proposal will be taken to imply that it presents original, unpublished work not under consideration for publication elsewhere.
General guidelines for submissions (first drafts):

Before submitting a proposal, we encourage you to visit our website (www.documenta.ugent.be) and familiarize yourself with the journal (MLA style).
Final drafts should be anonymized
Final drafts should contain the following: title, abstract, main text, endnotes, bibliography
Proposals should not exceed the 8000 word count, notes and bibliography excluded
Submission of images and other visual material is welcome. Please note that Documenta only publishes illustrations in black and white (unless otherwise agreed). It will be the author's responsibility to obtain permission for copyright and to use the material in print. Authors may find further information on permissions and copyright here: https://documenta.ugent.be/about/submissions
The first step upon receipt of the paper will be a preliminary review by our editorial board committee. If the paper passes this stage, it will be sent for peer review.
References:

Arjomand, Minou. Staged: Show Trials, Political Theater, and the Aesthetics of Judgment. Columbia UP, 2018.
Leiboff, Marett. Towards a Theatrical Jurisprudence. Routledge, 2020.
Nellis, Steff. "All rise! Jurisdiction as Performance/Performative Language." Forum Modernes Theater 26, no. 2 (2021), pp. 158-177.
Nellis, Steff. "Enacting Law: The Dramaturgy of the Courtroom on the Contemporary Stage." Lateral 10, no. 1 (2021).
Read, Alan. Theatre and Law. Palgrave Macmillan, 2016.
Tindemans, Klaas. "Truth, justice, and performative knowledge: Chokri Ben Chikha's Theatrical "Truth Commission" on (Neo)colonial injustices." Kritika Kultura 26 (2016), pp. 130-143.
KEY WORDS: Theater / Law / Jurisdiction / Courtroom Drama / re-enactment / pre-enectment / Justice
About the Journal:
Documenta currently enjoys an A1.2 status and is VABB-listed. In recent years, there has been a shift in focus as we are increasingly working – not to say exclusively – with thematic focusses. These special issues are entrusted to guest editors who are responsible for recruiting articles, contact with the authors, and providing all the necessary materials

At Documenta the peer review system is an integral part of the submission and evaluation process. The system of double-blind peer review ensures that published research is rigorous and meets the international standards set by each discipline. We engage in a collaborative refereeing process, which ensures that the work submitted is evaluated by and commented upon by two independent referees selected by the editors based on their areas of expertise. The editors will make the final decision about publication or assess the need for further revision. Feedback is then shared with the author. However, the reviewer's name is not disclosed.

Tags
Back to Announcements List